Ajloun Forest Reserve Jordan
Posted on February 23, 2013 by admin in Attractions, Blog.
At the week end we decided to visit the Ajloun Forest Reserve, about 80 kms north of Amman. We took the old Amman road, and the ride is already an experience. First passing by several garden centers, later, closer to Jerash, you find in this season vendors along the road, selling fruits of the region – apricots, grapes and cherries are farmed here – plus nuts, raisins, herbals and the chickpea plant. Naturally we had several stops en route to buy some tasty snacks.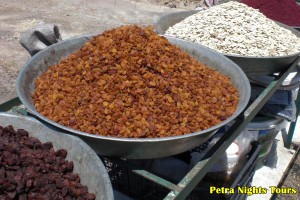 From Jerash we drove towards Ajloun  with scenic views over the landscape and to the Islamic Castle Ajloun. We followed carefully the Ajloun Reserve signs, and drove along small roads to finally get there. The reserve is located in the Ajloun Highlands, consists of 13 km2 hilly countryside dominated by open woodlands of oak and pistachio trees, and is home of the endangered roe deer. It is a quiet unusual landscape in Jordan, the greenery makes it a popular spot for picknickers and hikers.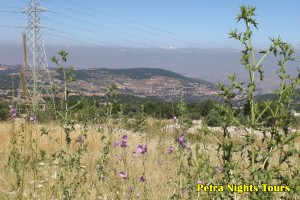 Ajloun Reserve was established in 1987 to help conserve the Evergreen Oak Forest ecosystem. The Royal Society for the Conservation of Nature (RSCN), a non-governmental organization, is in charge of the reserve. Beside the conservation of the forest the RSCN wants to provide a new source of employment for families in this area. The so called Ajloun Houses are part of the socioeconomic program. The houses are located in the villages Orjan and Rasun, and you can learn about soap making, Arabic calligraphy and baking from local women.
At the Soap House in Orjan visitors can follow the steps of the soap-making process. They use only local ingredients like lavender, geranium, mint, pomegranate and pure olive oil to make these soaps. The Biscuit House in Orjan creates with natural, locally produced ingredients Tasali Jordanian delights. At a small café enjoy reserve views and  taste the cookies with a cup of tea. The House of Calligraphy in Rasun village wants to educate visitors about Islamic and Arabic culture. There is a brief introduction about Arabic calligraphy, and visitors are instructed to write them own name in Arabic.
Best way to experience Ajloun Forest Reserve is to hike, at present there are 7 trails to choose from. The longer trails are only possible if you hire an English speaking guide from the Visitor Centre. Advance booking is certainly necessary. The trails are are shortly listed here and start all from the Visitor Centre:
·   Roe Deer Trail (guided or self guided, easy, 2 kms). Circular trail with great views and the sight of an old stone winepress.
·   Soap House Trail (guided or self fuided, moderate, 6-7 kms). Hike through wood with oak, pistacio and oriental strawberry to the Soap House in Orjan.
·   The Houses Trail (guided, moderate 6-7 kms). Trail takes you to the 3 handicraft  workshops, the Soap and Biscuit House in Orjan and the House of Calligraphy in Rasun.
·   Orjan Village Trail (guided, moderate, 12 kms). Hike to the Soap House, continue through wooded valleys to green orchards of Orjan village. Enjoy traditional meal in an orchard.
·   Rockrose Trail (guided, moderate, 8 kms). The trail passes through thick woodlands, orchards, farms and villages. Views of West Bank, Syria and Jordan countryside. There are steep scrambles en route.
·   The Prophet's Trail (guided, moderate, 8.5 kms).  Walk through orchards, forets and meadows to Mar Elias, the ruins of one of Jordan's oldest churches, dedicated to Prophet Elijah. Picnic lunch included.
·   Ajloun CastleTrail (guided, difficult, 18 kms). The same route like Prophet's Trail, then continue uphill to Ajloun Castle.
The reserve is a tranqil and relaxing area, you hear only the sounds of nature. When we had been there we did not see and hera any other visitors. It is spossible to spend the night at the reserve. Open throughout the whole year are 5 cabins with private facilities.  From April to end of October you can sleep at a tented bungalow, able to accommodate maximum 4 persons per bungalow. Shower and toilets are shared and located at the Visitor Center, in short walking distance.  Breakfast is included, and certainly you can enjoy lunch or dinner at the reserves' restaurant. In case you spend the night there or hike in the reserve bear in mind to bring comfortable shoes and clothes, drinking water, backpack, flashlight, binoculars, ID/passport.